The other day, my mom picked these up for me while my brother was getting a hair cut.
Now I just want to start off by pointing out that Supercuts is totally trying to attract women to their store with these bags full of men and wonderful cuts. And it's working.
Anyways, one of the items my mom purchased was this:
It's the Paul Mitchell Super Skinny Relaxing Balm. She got it around $2-$3 since it was on a HUGE sale at Supercuts. I tried it once or twice and was satisfied with it. It's pretty much a two-in-one product for those girls with frizzy hair like me. You can tame some of the frizz and blow dry it at the same time (since it works as a heat protectant). I skipped out on blow drying for a long time, but started getting back into it so I was thinking about getting a heat protectant anyways for my hair. Yay, mom!
I like how it has a pump at the top and the smell is okay. It just doesn't mix with my shampoo sent real well, so I'm glad that I'm getting a new, different shampoo soon anyways.
My mom also got me this shatter polish: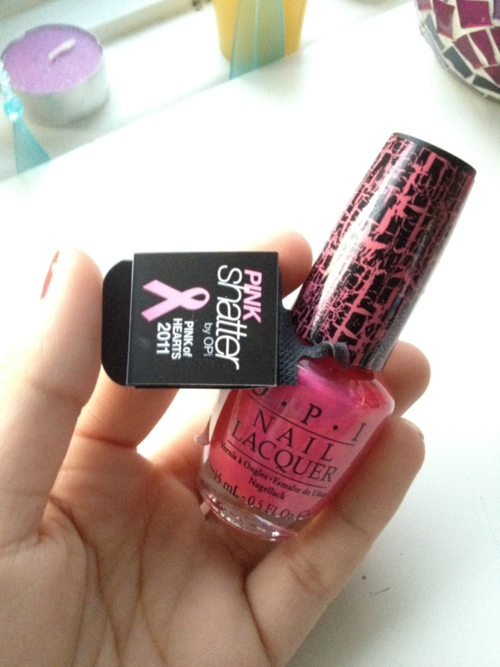 The pink color of this was dedicated to Breast Cancer Awareness month - cute color! And the bottle was $3, which is pretty cheap compared to the normal price ($8.50).
I don't know why, but my mom has been purchasing a lot of OPI shatter polishes for me. I don't even have any opaque colors of OPI... just shatter. Haha. And the sad part is that I don't really enjoy shatter. Sure, it's cool, but when I have the time to do my nails, I'd paint designs on them rather than skipping out with this.
Also, I personally have a grudge against shatter polishes. I had my other ones for about 2 months and kept them sealed tightly. Looked back on them the other day and the black and white were as hard as a rock. The only ones that stayed *OK* were the red and blue ones, which I cared for less compared to the other two *le sigh*. I don't believe I've used one of those shatter polishes on all my nails before besides one time with the black and once with the white. Since I only wore the red polish on my left hand once to test it out, I decided to send it to my cousin in Pakistan along with a goody bag full of other girly items.
I might buy some nail polish thinner to fix this, but I'm not sure if it'll work. I'll try to use this pink one for once before it dries out too.
But I'm still thankful for my mom getting me this. She was so excited to give it to me- it was so cute :3