A while ago I decided to try out these cute tuxedo nails.
They were inspired by Zooey Deschanel in this year's Golden Globes. She actually tweeted about them, so the picture on the far right of the photoset underneath is one that she took of her nails.
Zooey Deschanel is such a cute and quirky actor. I love watching her in movies or in her show, New Girl. (I have to catch up on it, though.)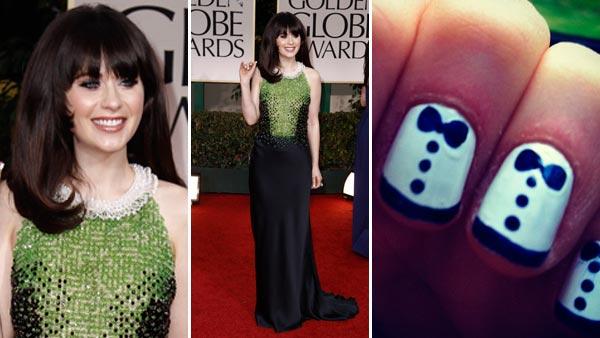 So my nails are pretty similar, but I decided to go with just a very, very small black tip instead of the normal black french tip that she's sporting. I wanted more space for the bow and the buttons. :)
Here's a little tutorial on how to have quick and easy nails like her:
1. Start of with a white base. Here I am using a Wet n' Wild white creme color.
2. Since I couldn't find my brushes, I decided to use both a pen and a pencil. I still need to search for those. Both of these are good alternatives too if you do not own a brush/dotting tool. In the picture, I added a blob of black polish on a post-it note to use in my nail art.
3. Create a bow using your lead pencil. It's fairly easy- just connect two triangles together.
4. Line the outer edge of your nail with black polish on the tip of your lead pencil. If you want a thicker tip, I suggest using a steady hand to glide the black across. Make sure while you are doing this to move your finger in the direction you want, rather than the nail polish brush- this makes it an easy application. If you're not able to do this, try a nail art pen.
5. Make three dots with a pen. The reason why we use a pen in this rather than the lead pencil is that the pen has a thicker tip, making the dots a larger size.
6. Not pictured, but protect your design and give it some shine with a good top coat.
And wala! Here are your fancy, schamncy tuxedo nails. You'll look spiffy all over town. :) Hope this helped!